Tatsuro Kiuchi
Work by Tatsuro Kiuchi, who was just featured on BOOOOOOOM! Fresh with a nod to the past and childish while remaining all grown-up. To me these are vaguely reminiscent of Miroslav Sasek's "This Is…" series. I'd be very interested to see their scale, and how they translate in person.
By The Light of the Moon
A lunar event on March 19th known as the Supermoon, during which the moon appeared 14% larger and shined 30% brighter, inspired Nosigner to create this mesmerizing LED light. Typographically accurate, according to data gathered by a Japanese orbiter spacecraft, the lamp is a one-of-a-kind portfolio piece. Personally, though, I wouldn't mind seeing the idea extend into mass production. Calm...
At Home With Erik Spiekermann
Not that I would have expected any less, but typographic icon Erik Spiekermann's Berlin home is astounding. Crisp and minimal but lived in (not unlike his fonts). Via ISO50.
Always with Honor
I really love Always with Honor, the collective name for designers Elsa Chaves, Tyler Lang, and their dog, Zoe. Their work is relevant but not trendy, and it seems they have a fantastic grasp on not only what looks good, but what is really communicated in all of their designs. I also love that their pieces have a really tender, personal vibe. Their icons and illustrations can be universally...
Edwin Europe
Edwin is a denim company originating in Japan with a passion for craftsmanship and sohpistication. Their Spring 2010/2011 Lookbook is based on being able to see the clothes as "real" people wear and live in them. I love the mood of the shots and their juxtaposition with the writing. See the lookbook in its entirety here. Via Honey Kennedy.
Brooklyn 1974
Enjoying these pictures of Brooklyn in the Summer of 1974. Via Kottke.
Confeitaria Lopes
Every creative has certain dream clients. An architect might want to build a library, and a musician might hope to collaborate with a personal idol, but I prefer to think about branding I might create for a bakery. Here's to hoping I get the chance to design something as nice as this new identity for Confeitaria Lopes. Via The Dieline. Designed by Gen.
Paul X. Johnson
Beautiful illustrations from Paul X. Johnson. The prominence of gray and subtle shifts in tone work well with the subjects to make for some eerie noir portraiture. Via BOOOOOOOM!
Homeward Bound
Earlier this summer I visited what is probably my closest idea of home. The place I lived the longest growing up, Aiken, South Carolina, will always be beautiful to me. Six years isn't a terribly long amount of time to stay somewhere, but Aiken is the place I know best, and is home to some of the people I still feel closest to.
Boston, March 2011
Because I use Facebook so often to share photos (I think a studio audience somewhere just collectively groaned), I seem to have forgotten to blog about my photography, which is unfortunate because my camera and I are best friends. To amend this, I've compiled some untimely spring break photos. Andy and I had the great pleasure of accompanying my parents to New England and beyond to see my...
Andrei D. Robu
Graphic designer Andrei D. Robu just launched a new portfolio website astonishing in not only the sheer amount of work he has, but in how fantastically executed each of his projects are. Inspirational to say the least.
BibliOdyssey
Recently, the wise and wonderful Tracy Honn of Silver Buckle Press introduced me to BibliOdyssey, a collection of "visual materia obscura" that pays special attention to images related to books, illustration, science, and history. Most sites on my blog roll are concerned with the contemporary goings-on of a more generally understood version of graphic design, so I've loved...
"Bon Iver" by Gregory Euclide
The Fox is Black never fails. I post content from them a lot, so I'm sorry if you love Bobby and his friends as much as I do and have to see some posts twice, but I can't resist. This feature on Gregory Euclide was no different. I've been listening to the new Bon Iver nonstop for the past couple of weeks and studying the album artwork with equal admiration.  It turns out, much...
Awesome People Hanging Out Together
In case you haven't gotten wind of this yet, there are some pretty amusing photos over on Awesome People Hanging Out Together. Some combinations are truly bizarre and some warm my heart a bit. Either way, it's worth perusing. Andy Warhol and Alfred Hitchcock Paul Rudd and Paul McCartney Salvador Dali and Francoise Hardy Julie Andrews and Audrey Hepburn
Max Knight
Some of my favorite pieces by UK-based photographer Max Knight. I haven't been this inspired by someone's camera work in quite some time. I love how effectively he is able to bring his own idea of tonality, composition, and mood into such a diverse array of subject matter. Check out his portfolio here.
Six Word Story Every Day
I'm sure most of you have seen this before, but just in case, the website Six Word Story Every Day is really great. The concept stems from work originated by Ernest Hemingway- a story made of only six words ("For sale: baby shoes, never worn.") The creators of the website seek writers to come up with the stories and match them with designers who use the words for typographic...
How the Dead Live
Glimpses of "How the Dead Live," a book written by Will Self and illustrated by Sophy Hollington. Sophy is May's student of the month on It's Nice That.
James Cullen
Some really quality work from James Cullen, via Swiss Legacy.
Mixtape: Hide + Seek
This mix has been in progress for a while now. As ever, the weather has been my muse. After noticing that a lot of spring playlists seem to jump the gun, favoring peppy celebrations of swimsuits and humidity with more bass and drums than a Wisconsin June can handle, I made almost the opposite. Intended to be listened to on a slow and still slightly chilly bike ride, while holed up in your...
Gotta Have It
  Snagged this great track from ISO50 a few weeks back and I can't stop playing it. I hope you enjoy it as much as I do. Another track from the same ISO50 post by Glams Casino is equally great for some summery, soulful vibes.  
Goals
It must be borne in mind that the tragedy of life doesn't lie in not reaching your goal. The tragedy lies in having no goal to reach. It isn't a calamity to die with dreams unfulfilled, but it is a calamity not to dream. It is not a disaster to be unable to capture your ideal, but it is a disaster to have no ideal to capture. It is not a disgrace not to reach the stars, but it is a disgrace to...
Gianluigi Rivasi
Drawings by an Italian artist, Gianluigi Rivasi, who also has some interesting design solutions on his Flickr account. Via BOOOOOOOM!
Gold Top Cider
Drooling over the labeling (and contents) of this cider. Via The Dieline.
The Burning House
It's been blogged about by everyone, but I couldn't resist making a post about this project by Foster R. Huntington. The series asks participants to photograph the objects they could not forsake in the event of a fire. I love seeing the objects detached from the sentimentality of the owners' explanations- we may have our reasons, but we all sure like some weird stuff. ...
Mad Brew
I'm constantly admiring work on Lovely Stationery, but this gorgeous set is perhaps the best I have seen on the site recently. See designer Adam Hill's website for more equally impressive work.
Touch
Work from Edinburgh-based design agency Touch, via FormFiftyFive.
Sartori
It might just be my cheese obsession speaking, but there's something really great about this labeling for Sartori. Via The Dieline.
Meneo
Truly great work from Meneo, a studio in Bilbao. Via FormFiftyFive.
Swampy
Love the understated colors in these summery, easy photos by Swampy. Via BOOOOOOOM!
Bill Cunningham's New York
After missing out on the Wisconsin Film Fest this weekend (lesson learned: show up hours early or don't see movie), I am especially in need of watching a great documentary. I was delighted to find this trailer in my feed this morning thanks to swissmiss. It's always a delight to learn more about the invisible forces behind things our culture consumes so regularly, and Mr. Cunningham...
Infographic Infographic
It's just what you think: every information designer's dream. Ivan Cash has put together an infographic on infographics themselves. Via Quipsologies.
Jeff Pianki
After checking out The Cover Song Archive, a project of one of my favorite art blogs, Boooooooom!, I wasted a few minutes poking around on the related videos in the YouTube sidebar and miraculously discovered the gorgeous voice of Jeff Pianki. I've been on an upbeat Yeasayer/Tennis/LCD Soundsystem kick lately, so stumbling across these gentle, almost whispered covers has been a real treat. ...
Euro Shopper Branding
So impressed by the strength and consistency of the new packaging for Euro Shopper. How often are such stringent brand guidelines applied so flawlessly? Even more impressive is that their dedication to brand uniformity didn't interfere with the effectiveness of each individual package. If domestic grocery chains were able to accomplish in-house branding that looked this svelte, I think a lot...
Fruita Blanch
Gorgeous branding from Atipus for Fruita Blanch. Via Lovely Stationery.
Elizabeth Hoeckel
Collages by Elizabeth Hoeckel via BOOOOOOOM!
Midterm Hiatus
No blogging this week. Again, not an earth shattering revelation, but I have to post it here so that if I stop studying to post pictures of cool olive oil bottles or whatever I usually ramble on about, you will all know it's just me procrastinating, and I'll be so ashamed I'll have to force myself into further exile. Then again group of people just walked by my study room in...
IFC's 50 Greatest Opening Title Sequences
In honor of the Oscars (which I can't watch, midterms, ugh), here is a link to the Independent Film Channel's 50 Greatest Opening Title Sequences of all time.  I was pleased to see Rocky Horror and Austin Powers (seriously) made the list, and of course took great joy in having an excuse to watch the first few minutes of The Graduate. Disappointing that Saul Bass' amazing...
Quilling and Type
Falling in love with the paper made works of Yulia Brodskaya. After attempting something similar in last semester's classes, I think I appreciate their intricacy even more. And who doesn't love paper craft, anyway? See more here.
Jelle Martens
Oh, beautiful minimalism! Images by Jelle Martens via Grain Edit.
Official Propaganda
Demian Conrad has come up with a truly great design strategy for the Lausanne Underground Film & Music Festival (LUFF). Because the festival's management has recently undergone some very public changes, Conrad worked with the concept of administration, specifically what that means within the context of underground festivals. He eventually arrived at the solution of creating seven...
Art & Graft
Gorgeous stationery for this British animation and live action studio by the designers at Collective Approach. I could stare at that ampersand for days. Via Lovely Stationery.
Simon Walker
Can't get enough of Simon Walker's type skills! See the original post at Grain Edit.
Watching You Watch Me
Swedish photographer Moa Karlberg captures strangers engaging with their own reflections, snapping anonymously behind two-way mirrors to achieve moody, voyeuristic compositons. Bobby at The Fox is Black puts it perfectly: "When you look into a mirror you're analyzing your own appearance in a fraction of a second, considering intimate details about yourself that no one else will likely...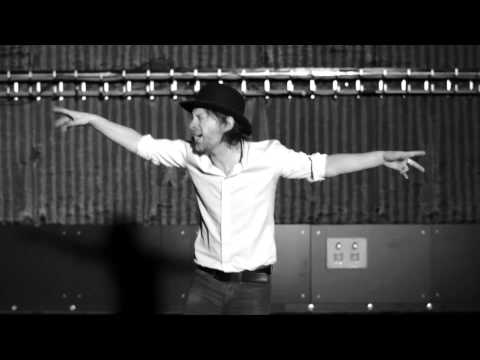 Denise Nestor
For an art student, my pencil drawing skills are pretty subpar, and these gorgeous graphite illustrations from Denise Nestor aren't soothing my inferiority complex. Via BOOOOOOOM!
I'll grind your bones to make my bread!
Want to feel giant? Here's a little something special for an iSight camera, built by Ryuji Nakamura. My brain is spinning with the possibilities! Via swissmiss.
Back to the Future
Photographer Irina Werning has put together a really compelling series of images where participants recreate old images of themselves. The work is really witty, but at the same time, I'm in awe of the accuracy of her new compositions. It's definitely worth taking a few minutes of your time to see the rest on her website. Now I want to dig up some baby photos. Via ISO50.
Jonathan Saunders
A few gorgeous looks from the Fall 2011 collection of Jonathan Saunders via The Sartorialist. It's still winter here and the looks are for next Fall, but I want it to be Spring now and I want to wrap myself in those lush colors and prints then.